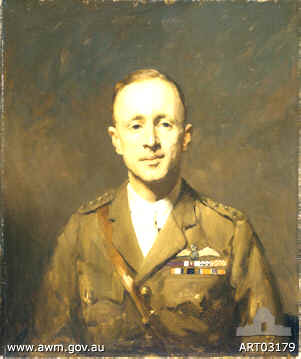 SMITH, Sir ROSS MACPHERSON (1892-1922), was born 4 December 1892 at Semaphore, Adelaide, son of a station manager; both parents were Scottish born.

In 1897 his father became the manager of the Mutooroo Pastoral Co. and Mutooroo station a property of some 3000 square miles (7700 k2).

Both Ross and his elder brother Keith were educated at Queen's School, Adelaide (as boarders), and for two years at Warriston School, Moffat, Scotland, their father's birthplace.

On returning to Australia, Ross joined the Australian Mounted Cadets and was selected in 1910 to tour Britain and the United States of America as a South Australian representative.
He then joined the 10th Australian Regiment, the Adelaide Rifles.

Before the outbreak of war in 1914 Ross was employed as a warehouseman in Adelaide. In August 1914 he enlisted as a private in the 3rd Light Horse Regiment, Australian Imperial Force, and on 1 October was promoted sergeant.

He embarked for Egypt on 22 October and landed on Gallipoli on 13 May 1915. On I I August he attained the rank of regimental sergeant major and was commissioned second lieutenant on 5 September. Invalided to England in October, he was promoted lieutenant on 1 March 1916 and three weeks later embarked for Egypt to rejoin his old regiment. With the 1st Light Horse Brigade, 1st Machine-Gun Squadron, his principal action occurred during the Battle of Romani on 4 August 1916. In July 1917 he responded to a call for volunteers to join the Australian Flying Corps, the transfer taking effect on 4 August.

Ross Smith's air war was most active. Qualifying as an observer in December 1916, and later as a pilot, he served mainly with No. I Squadron, Australian Flying Corps (No. 67 Squadron R.F.C.), a general purpose squadron flying a variety of aircraft in defence of the Suez Canal zone. In January 1918 it was re-equipped with the Bristol Fighter and designated a fighter squadron. As such the squadron was an important element of General (Lord) Allenby's 1918 offensive and took part in the overwhelming air attacks on the Turkish armies in the Wady Fara.
| | |
| --- | --- |
| | Observer, pilot, and Bristol Fighter F2B aircraft, Serial B1146, of No. 1 Squadron, Australian Flying Corps. The pilot (left) is Captain (Capt) Ross Smith, MC and bar, DFC and two bars. Capt Hurley visited No. 1 Squadron on the 25 and 28 February 1918 and this photograph was probably taken on one of these days. |
By the end of the war Ross had twice been decorated with the Military Cross and three times with the Distinguished Flying Cross. Later he was to add the Air Force Cross for non-operational flying. The first Military Cross was awarded while Ross, still an observer, landed in the face of the enemy to rescue a fellow officer who had been brought down. Bombing and photography and air-to-air combats brought the other operational awards.

By the end of the war Ross had acquired considerable experience flying the twin-engined Handley Page 0/400 bomber which had been attached to the squadron. He had flown it not only on bombing operations in Palestine but also on long photographic flights. He was consequently selected to co-pilot the aircraft in a pioneer flight from Cairo to Calcutta, leaving Cairo on 29 November 1918 and arriving in Calcutta on 10 December. A tentative attempt was made from Calcutta to survey by sea an aerial route through to Australia.
This was abandoned at Timor. Nevertheless the experience gained was of great benefit in the successful attempt later undertaken with his brother to fly from England to Australia within 30 days. The prize of £10,000 was offered by the Australian government for the first aviator to do so.
| | |
| --- | --- |
| | Members of the crew stand in front of the aircraft which was used in the first flight to be completed from England to Australia 1919 in the Vickers Vimy commercial type twin engined machine. Identified are, from left to right: Sir Keith Smith; Sir Ross Smith; Sergeant (Sgt) Jim Bennett; Sgt Wally Shiers. AWM image 106704 |
In a Vickers Vimy (a type similar to the 0/400 bomber), supplied by the manufacturer, and with Keith as assistant pilot and navigator and accompanied by two mechanics, the attempt began from Hounslow, England, on 12 November 1919. Flying conditions were very poor and most hazardous until they reached Basra on 22 November. From Basra to Delhi, a distance of 1600 miles ~1575 kin), they spent 25 hours in the air out of 54.
A poor landing area at Singora and torrential rain almost brought disaster on 3 December. Disaster again almost came at Sourabaya where the aircraft was bogged and had to take off from an improvised airstrip made of bamboo mats. By 9 December, however, they were at Timor, only 350 miles (563 km) from Darwin.
The crossing was made next day and at 3.50 p.m. on 10 December they landed in Darwin. The distance covered in this epic flight was 11340 miles (18 250 km). It took just under 28 days with an actual flying time of 135 hours at an average speed of 85 m.p.h. (137 kph.).

Both Ross and Keith were immediately knighted; Sergeants W. H. Shiers and J. M. Bennett, the mechanics, were commissioned and awarded Bars to their Air Force Medals, and the £10,000 prize money was divided into four equal shares.
The next proposal, to fly round the world in a Vickers Viking amphibian, ended in disaster. Both brothers travelled to England to prepare for the trip and on 13 April 1922, while Ross and his long serving crew member Bennett were test-flying the aircraft at Weybridge near London, it spun into the ground from 1000 feet (305 m), killing both. Keith, who arrived late for the test flight,
witnessed the accident. Ross had not flown at all for many months and had never flown this type of aircraft. The investigating committee concluded that the accident had been the result of pilot
error. The flight was abandoned.

The bodies of Sir Ross Smith and Lieutenant Bennett were brought home to Australia and after a state funeral Smith was buried in the North Road Anglican cemetery, Adelaide, on 15 June. The Vickers Vimy flown on the England-Australia flight is displayed at Adelaide airport.

JOHN MCCARTHY [ 11:654-6]