| | | |
| --- | --- | --- |
| Category: Assorted/Heroes | | |
General Sir John NORTHCOTT, KCMG, KCVO, MVO, CB, KstJ
by Alan Beckerleg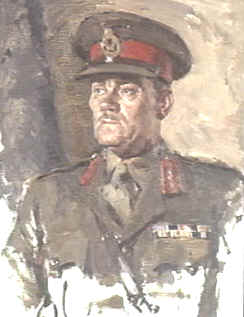 NORTHCOTT, General Sir John, KCMG 1950, KCVO 1954, MVO 1927, CB 1941, KstJ, psc, idc, Governor of NSW 1946-57, Administrator Commonwealth of Australia 1951 and 1956: b. 24 March 1890 at Creswick Vic son of John Northcott (Postmaster Dean Vic) and Elizabeth (nee Reynolds): Married 1916 to Winifred daughter of Archibald Paton, Kew Victoria. The marriage was at the Church in Oxted, Surrey.

Two daughters from marriage, both born in WA.

He died 4 Aug 1966 at Wahroonga NSW.

Educ: Grenville College Ballarat and Melbourne University.
Grandparents, Richard and Jane (nee Palmer) Northcott sailed on the "Conflict" from their home area in Somerset arriving in Australia in June 1868. They settled in Creswick Vic where previous family members Richard and Jane (nee Northcott) Beckerleg had settled in 1856. Richard was a bootmaker who eventually went into the grocery business.
The family of Richard and Jane consisted of five sons and three daughters (two other children had died in infancy before the family came to Australia.
AWM ART23695. Lieutenant General John Northcott, CB, MVO, Chief of General Staff AMF, and Allied Land Forces
The youngest son was John, who had the Post Office at Dean Vic prior to moving to Ballarat and subsequently to Melbourne.

He married Elizabeth Reynolds of Ballarat and their family consisted of four sons and one daughter, the most illustrious of whom was Sir John.
| | |
| --- | --- |
| Tel-el-Kebir, EGYPT. 1941-11. Major-General J. NORTHCOTT, Brigadier L. E. Beaviss, Colonel W. H. Anderson and Colonel C. F. Suggate inspecting one of the American STUART M3 light tanks. | |
| | |
| --- | --- |
| | Blanche Bay, New Britain. 1945-09-28. Lieutenant General J. Northcott, Chief of General Staff (1) inspecting a Japanese type 97 Chi-ha medium tank manned by Australians of 2/4 Armoured Regiment which is en route to Rabaul. |
This tank is armed with a type 60 57mm main gun and also with a single 7.7mm type 97 machine gun in the rear of the turret and a bow mounted 7.7mm type 97 machine gun. Headquarters 11 Division officers are in background. Lieutenant General Northcott is on a tour of inspection of the area.
Chefu, Japan. C.1946-04-17. Lieutenant General J. Northcott CB MVO, Commander in Chief, British Commonwealth Occupation Force (BCOF), inspects the guard of honour at HQ 9th New Zealand Infantry Brigade.

To the rear of Lieutenant General Northcott is Brigadier K. L. Steward, CBE DSO, Commander of the Brigade.
Military Service:

Commissioned 14 Aug 1908 2LT 9th Light Horse Regt (Militia)

Promoted 31 Oct 1910 LT Mil Adjt 9LH Regt

Promoted 31 Jul 1911 CAPT 9 LH Regt

Posted 16 Nov 1912 Admin & Instr Staff

Posted 1 Jul 1913 Instr duties 6MD

Posted 24 Aug 1914 Adjt 12 Bn AIF (composite Bn half Tas and half SA/WA)

Operations 25 Apr-9 May 1915 Gallipoli Severely wounded in action

Promoted 14 Dec 1915 Brevet MAJ

Operations 14 - 28 Dec 1915 Egypt

Posted 14 Apr 1917 GSO3 5MD

Posted 1917 RMC Duntroon as an Instructor
<< Northcott at the time of his posting as a Captain (Adjutant) in the 12th Battalion AIF circa 1914.

Posted 1918 GSO3 Training Staff 5MD

Promoted 1 Jan 1920 Brevet MAJ and posted Staff Corps

Posted 1 May 1921 SO (Q) 13 Mixed Brigade

Posted 13 Sep 1923 IGC 13 Mixed Brigade

Promoted 1 Oct 1923 Substantive MAJ

Posted 22 Nov 1923 - 23 Feb 1926 Staff College Camberly

Posted 22 Mar 26 SO S&T M&Q AHQ

Attached to the staff of the Duke and Duchess of York during Royal Visit of 1927 and appointed MVO
Posted 17 Sep 31 - 31 Jan 32 GSO 4 Div

Posted 1 Feb 32 - 22 Nov 32 GSO 3 Div

Posted 1 Jan 33 - 3 Jan 35 Exchange Officer UK

1 Jan 33 - 31 Mar 33 GSO War Office

1 Apr 33 - 3 Jan 35 GSO2 44 (Home Counties) Div

Posted 4 Jan 35 - 12 Jan 36 Imperial Defence College

Promoted 1 Jul 35 Brevet LTCOL

Promoted 1 Jan 36 Substantive LTCOL

Posted 13 Jan - 1 Apr 36 Senior Officers School Sheerness UK

Attached 3 Apr 36 - 13 Jun 37 Committee Imperial Defence

Posted 14 Jun 37 GSO 4 Div

Promoted 1 Jul 37 Brevet COLONEL

Posted 1 Sep 38 - 12 Oct 39 Director of Ops and Int AHQ

Promoted 13 Oct 39 Substantive COL

Promoted 13 Oct 39 MAJGEN

Posted 13 Oct 39 DCGS

Posted 27 Jan 40 - 17 Mar 40 A/CGS

Posted 1941-42 Commander 1 Aust Armoured Div

Promoted 1942 LTGEN Commander 2nd Aust Corps

Posted 1942 - 1945 CGS

Posted 1945-46 Comd BCOF Japan
Appointed 1946 -1957 Governor of NSW

Appointed 1951 Administrator C'wth of Australia (in absence of the Gov Gen)

Appointed 1951 (Hon) GENERAL

Appointed 1956 Administrator C'wth of Australia (in absence of the Gov Gen)

Hon Air Commodore RAAF

Hon D Litt Sydney Uni and New England Uni

Hon D Sci Uni of NSW

Clubs; Union, Australian, Imperial Services (all in Sydney

Last Residential address: Water St, Wahroonga NSW
NORTHCOTT, Lieutenant General John (24 March 1890-4 August 1966). Educated at the University of Melbourne, Northcott was commissioned in the 9th Light Horse in August 1908. He transferred to the Administrative and Instructional Staff in November 1912, and volunteered for the AIF on the outbreak of war.

Appointed adjutant of the 12th Battalion, he landed at Gallipoli and was severely wounded during the campaign. He held a staff position back in Australia after returning to duty, as GSO3 on the headquarters of the 5th Military District.

<< 1940-04. Major General John NORTHCOTT.

After the war he suffered the customary reduction in rank, being appointed to junior staff jobs once again with the 5th Military District and the 13th Mixed Brigade.
As a regular, however, his career improved with his selection to attend the Staff College, Camberley, between 1924 and 1925. He returned to Army Headquarters in the latter year, but was again posted to Britain in January as an exchange officer, serving with the 44th (Home Counties) Division for two years before attending the Imperial Staff College (IDC) on the 1935 course. His overseas attachments did not end there.
Graduating from the IDC, he attended the Senior Officers' School at Sheerness before serving a five month attachment to the Committee of Imperial Defence, the premier strategic policy formulation body in the Empire. After a further period in the United States and Canada, he returned to Australia in June 1937 as the principal operational staff officer on the 4th Division's headquarters.
The outbreak of war in 1939 found him as Director of Military Operations and Intelligence, and within five weeks he was appointed Deputy CGS. With a couple of brief exceptions, his war service was to consist of critical staff positions, in which he provided valuable service. He attended the Dominion's Conference in London at the beginning of the war, and was seconded to the 2nd AIF in September 1941. He did not serve overseas (other than a brief attachment to British formations in the Middle East in late 1941), however, being appointed GOC of the 1st Armoured Division, then being raised from existing cavalry formations, and destined never to serve overseas as a formation, despite the government's original intentions.
Northcott's lack of direct command experience showed, and critics held that he never really 'gripped' his new command, which was still floundering when he was succeeded by Major-General H.C.H. Robertson (qv), newly returned from the Middle East, in April 1942. A short stint as GOC of the II Australian Corps in the middle of the war was followed by his promotion to the post of CGS in September, a position which he held for the remainder of the war and at which he excelled. The relationship between the CGS, who was responsible for administrative matters, and Blamey, as C-in-C of the Australian Military Forces, was a delicate one, and it was greatly to Northcott's credit that he carried off the role without the traumas and tantrums that characterised a similar command arrangement in the RAAF between Air Vice Marshals Jones and Bostock (qqv).
It meant, however, that he spent the whole of the Pacific War in Australia, and missed the opportunities for professional advancement given to his contemporaries who held active commands in New Guinea. This, along with his largely unrecognised contribution to the successful prosecution of the war effort, was acknowledged by Sturdee, when the latter was asked by the Labor government to take up the post of CGS again after the war, he agreed, on the condition that Northcott be given the command of the British Commonwealth Occupation Force then forming for service in Japan.
As such, he negotiated the MacArthur-Northcott agreement in December 1945, which governed the deployment of the force under overall American command; it was a hard bargain driven by MacArthur's principal subordinates but one which, in the view of Lieutenant General H.C.H. Robertson who succeeded him in this post also, could not have been bettered by any one else. Once again, however, Northcott's lack of command experience showed, and the occupation force only really attained a sound basis under his successor; although in fairness it must be added that the problems faced by both were formidable in a devastated area of Japan. He accepted the offer of the governorship of New South Wales in 1946, as the first Australian-born incumbent, and held the post until 1957.
He was appointed KCMG in 1950 and KCVO in 1954. In retirement from the army he became honorary colonel of the 1st New South Wales Lancers in 1949. He was twice Administrator of the Commonwealth.
Reference:

The Oxford Companion to Australian Military History p437-438.