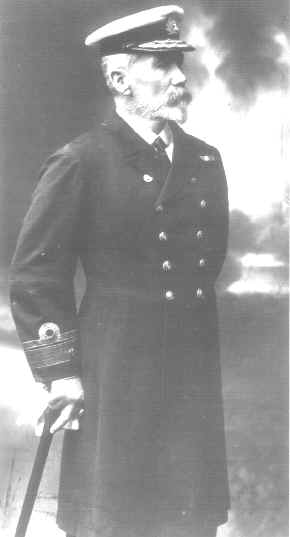 (1852-1933), was born on 20 July 1852 at Gibraltar, son of the colony's deputy-Postmaster General. Educated at Aitken's Private School, Gibraltar, and Eastman's Naval Academy, Southsea, England, he entered the Royal Navy's training ship Britannia as a cadet in December 1865.

Promoted midshipman in May 1867 he joined H.M.S. Phoebe; two of his four years on it were spent on a world training cruise, including Australia late in 1869.Creswell's next posting was to H.M.S. Minotaur, flagship of the Channel Fleet. He was promoted sub-lieutenant in 1871 and later transferred to the Thalia on the China Station.

He also served in the gunboat Midge and on 16 September 18 73, during a skirmish with pirates on the Malay coast, was shot in the hip.. However, he remained at his post and for his gallantry was specially promoted lieutenant. Invalided home, on recovery he studied at the Royal Naval College, Greenwich.

His next sea-going appointments were with the Topaze, the Undaunted, flagship of the East Indian Station, and from 1877 the London, a depot ship at Zanzibar, East Africa.
Here the navy was suppressing the slave-trade and Creswell, who quickly became an interpreter in Swahili, commanded a flotilla until fever invalided him. The foreign minister Lord Salisbury thanked him for his services at Zanzibar.

On resuming duty in April 18 78 Creswell took a torpedo course on the Vernon, then commanded the Lion, a training ship at Devonport. Disappointed at the slowness and uncertainty of promotion within the Royal Navy, he retired on 6 September 18 7S. Next year, hoping to become a pastoralist, he migrated to Australia with his brother Charles, and until 1885 pioneered in the Northern Territory, exploring and cattle-droving. Despite his fine physique and determination he never came to terms with the outback. In 1885 while visiting Adelaide, he met an old shipmate, Commander John Walcot, naval commandant of the South Australian Defence Forces, who offered him an appointment as a lieut-commander. Creswell took up duty on 12 October as first lieutenant of the cruiser H.M.C.S. Protector, the only ship in the colony's defence force.

In 1886 Creswell began speaking out on the need for adequate Australian naval forces to supplement the Royal Navy squadron based at Sydney. in the South Australian Register in 1886 he argued that it would be better to develop local forces instead of subsidizing the British squadron. Though such views had been raised earlier, Creswell's articles stimulated much debate. In 1893, in the rank of commander, he succeeded Walcot as naval commandant. He was promoted captain in June 1895 and appointed C.M.G. in 1897. That year one of his reports was taken to the colonial conference by the South Australian premier. It recommended enlisting Australians in the Royal Navy and a Royal Naval Reserve in Australia for British squadrons east of Suez. The conference rejected these proposals and Creswell later abandoned them; in 1899, at a conference of Australian naval officers in Melbourne, he recommended instead the raising of an Australian force.

Creswell was appointed commandant of the Queensland Naval Forces on 1 May 1900. The Protector was offered to the British government on the outbreak of the Boxer Rebellion, and Creswell was released to take command of his old ship; he served from August 1900 to January 1901, impressing the commander-in-chief of the China Fleet, under whose command the ship carried out survey and dispatch work. In September Creswell, responsible to the minister for defence in the newly formed Federal government, reported on 'the best method of employing Australian seamen in the defence of commerce and ports. He urged that Australia establish her own naval defence gradually, beginning with one modem warship, manned by Australians. However, the Colonial Conference of 1902 resulted in a naval agreement which provided for a financial subsidy and the acceptance of Australians for service as sailors (but not officers) in Royal Navy ships on the Australian Station. The Admiralty continued to insist on a free hand strategically, and on the restriction of colonial naval activity to local defence.

Parliamentary debate on this agreement showed that Creswell was not alone in wanting an Australian navy. He was being looked upon as the nation's chief spokesman on naval matters, and the government appointed him on 25 February 1904 to a newly created position of naval officer commanding the Commonwealth Naval Forces. This was additional to his duties as naval commandant in Queensland and, after 20 October 1904, in Victoria. In December he became director of naval forces, pending a board of administration, and in January 1905 he was made a member of the Council of Defence and of the Australian Naval Board, while remaining naval commandant in Victoria. Through frequent changes of defence ministers, Creswell consistently pressured and preached for new ships and increased manpower for the Commonwealth Naval Forces; he was indefatigable and in line with Australian nationalist sentiment. He believed that adequate Australian naval forces were needed to open careers in which Australians could render that personal service necessary for the country to contribute to Empire naval strategy.

In 1906 Creswell urged in his annual report the creation of a torpedo and destroyer force. That year he was sent to England to study naval developments and especially to look into the destroyer question. He found himself persona non grata at Whitehall which considered that agitation for an Australian navy was largely due to personal self-interest. Creswell's proposed Australian navy was dismissed as having no strategical justification'. In his history of the navy in Australia Rear Admiral H. J. Feakes remarked that 'to one of Creswell's orthodox service upbringing and temperament the rejection by the Admiralty of both himself and all his works was the unkindest cut of all'.

Back home, supported by naval commandants in all the States, Creswell continued to press for a local naval force. Prime Minister Deakin accepted these views but in February 1907 the British naval commander, Vice Admiral Sir Wilmot Fawkes, urged him to abandon the destroyer scheme. Creswell wrote a comprehensive memorandum for Deakin to take to that year's Colonial Conference but his views were not acted upon. He followed up with memoranda to the minister for defence T. T. Ewing on destroyers, submarines and changes in the world naval situation. In October Deakin sent a -~I~~ ~-;Age to the Admiralty proposing that Australia should provide a thousand seamen and purchase submarines or destroyers.

In a report presented in 1908 Creswell opposed the acquisition of submarines. He declared that 'the excellence or otherwise of a service rests first and last with the Legislature, who can have any service they desire. And he added: 'Criticism of a Government proposal by a Government officer is of course unusual and I much regret the present occasion. There are however responsibilities impossible to disregard'. Later that year an Admiralty memorandum was issued, detailing a scheme for the acquisition by Australia of destroyers and submarines but nothing came of this. Creswell's patience was at its limit but on 5 February 1909 the Fisher government decided to order three destroyers.

The 1909 Imperial Defence Conference, alarmed by the rapid increase of German naval power, recommended the acquisition of one battle cruiser, three unarmoured cruisers, six destroyers and three submarines. Creswell had never aimed so high, and the proposal adopted was, therefore, not written by the one man who had so persistently advocated an Australian navy. The proposal came from the Admiralty which now acknowledged Australia's needs in the existing international situation. It was pressed through in Australia by Deakin who brooked no delay in placing the order for construction of the new vessels..

Having been an advocate for a navy Creswell now found himself administering one. Following a report to the government by Admiral Sir R. Henderson, giving detailed advice on naval defence, he was promoted rear admiral and became first naval member of the Australian Naval Board on 1 March 1911. He was appointed K.C.M.G. in June. On 10 July King George V granted the title of 'Royal Australian Navy to the Permanent Commonwealth Naval Forces and the work of building it up proceeded. Ships had to be constructed, stores and dockyard facilities taken over from the Royal Navy, recruits found and systems of manning and training worked out. Officer cadets had to be appointed and a naval college founded. In all this, Creswell worked closely with the minister, ~Sir~ George F. Pearce.

The Australian Fleet assembled in Sydney on 4 October 1913 and Admiralty control of the Australian Station then ceased. That the Australian ships were ready for active service when war began in August 1914 was in large part due to Creswell's efforts, and this was the climax of his career. It was the pride of his later years that in 1914 Australia had a fleet, that it was the strongest British naval force in the Pacific, that it had effectively deterred the squadron of German cruisers in the Pacific, and that an Australian ship, H.M.A.S. Sydney, had destroyed the raider S.M.S. Emden.

Paradoxically, Creswell's influence now declined. His objective had been attained, and in greater measure than he had anticipated. The ships of the Australian Fleet were dispersed into various British squadrons and the naval board's orders for the fleet were controlled by the Admiralty. But the board remained a part of the Australian government and Creswell the government's naval adviser. This situation, so full of anomaly, might easily have been a source of conflict between the British and Australian governments; that it was not stands to the credit of those involved, including Creswell. His work during the war was concerned more with administration than with operations or strategy. He was involved in ship construction in Australia, the development of shore support and the arranging of convoys.

Creswell was active in formulating a post-war defence programme based on lessons of the war. To his mind that experience reaffirmed the importance of continued development of the Royal Australian Navy and not a return to reliance on one great imperial navy. It also focused his attention and that of other members of the naval board on the strategic importance to Australia of the Pacific island groups near the Equator occupied by Japan. The naval board frequently urged the Australian government to counter Japanese claims to permanent occupation. There was substantial evidence in the closing years of his career that Creswell was acutely aware of the growing divergence of strategic priorities between Australia and Britain.

Creswell was appointed K.B.E. in 1919; he relinquished office on 14 August, was formally transferred to the retired list on 27 November, and was promoted vice admiral in September 1922. In retirement he engaged in farming at Silvan, near Melbourne, and kept up his interest in public affairs. Survived by his wife and three of their six children (two sons had been killed in action) he died on 20 April 1933 at Armadale, and was buried in Brighton cemetery after a state funeral.

Creswell combined a keen sense of humour with breadth of outlook, an appreciation of issues other than naval matters, an ability to get on well with politicians and the public, and patience with parliamentarians even when they disappointed him. It was a most effective combination. Undoubtedly he played a major role in developing Australian naval policy. From the 1880s he had begun to press for Australia to take her naval defence seriously and to contribute adequately to it. And from 1901, when he accepted the principle that Australia needed her own navy, he strenuously advocated it until his hopes were realized by the decision in 1909. The rightness of this decision has not been disputed and much credit for it must go to him. His accomplishment as professional head in organizing and administering the new navy in 1909-19, with all that this responsibility involved, was no less outstanding. He has deservedly been called The Father of the Royal Australian Navy.

ROBERT HYSLOP [8:145-7]