| | | |
| --- | --- | --- |
| Category: Assorted/Heroes | | |
Charles Edwin Woodrow (CEW) Bean, Australia's WW1 historian
Painted after Lambert's return from accompanying the 1919 Australian Historical Mission to Gallipoli.

The Mission was headed by WWI war correspondent CEW Bean. Charles Edwin Woodrow Bean, MA, BCL (Oxon), LittD (Melb), journalist and historian, was the official war correspondent for Australia 1914-1918, and official historian of Australia in the First World War.

He conceived the idea for an Australian War Memorial Museum. He was on the Committee and Board of the Memorial from 1919, and was Acting Director.

The portrait depicts Bean wearing an army greatcoat and holding a pencil and notebook.

by George Lambert.

AWM image and text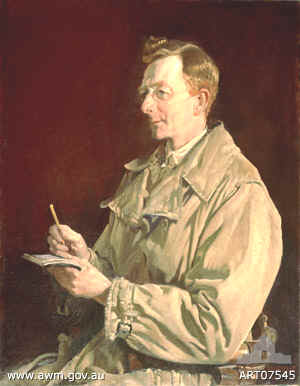 Some text from the AWM site. Some images & some text from the Anzac Book.

Born: 18 November 1879, Bathurst, NSW
Died: 30 August 1968,

Charles Bean is perhaps best remembered for the official histories of Australia in the First World War, of which he wrote six volumes and edited the remainder.

Before this, however, he was Australia's official correspondent to the war.

He was also the driving force behind the establishment of the Australian War Memorial.

Bean was born on 18 November 1879 at Bathurst, New South Wales and his family moved to England when he was ten. He completed his education there, eventually studying classics and law at Oxford.

Bean returned to Australia in 1904 and was admitted to the New South Wales Bar.

He travelled widely in New South Wales as a barrister's assistant and, struck by the outback way of life, wrote and illustrated a book, The impressions of a new chum.

The book was never published but in mid-1907 much of its content appeared in a series of Sydney Morning Herald articles under the by-line 'CW'.

In these articles Bean introduced a view of Australia, particularly its men, which foreshadowed much of what he would write about the AIF.

Having dabbled in journalism, Bean joined the Sydney Morning Herald as a junior reporter in January 1908. He published several books before being posted to London in 1910.

In 1913 he returned to Sydney as the Herald's leader writer.

When the First World War began, Bean won an Australian Journalists Association ballot and became official correspondent to the AIF.

He accompanied the first convoy to Egypt, landed at Gallipoli on 25 April 1915 and began to make his name as a tireless, thorough and brave correspondent. He was wounded in August but remained on Gallipoli for most of the campaign, leaving just a few days before the last troops.

He then reported on the Australians on the Western Front where his admiration of the AIF crystallized into a desire to memorialize their sacrifice and achievements. In addition to his journalism, Bean filled hundreds of diaries and notebooks, all with a view to writing a history of the AIF when the war ended.

In early 1919 he led a historical mission to Gallipoli before returning to Australia and beginning work on the official history series that would consume the next two decades of his life.

Along with his written work, Bean worked tirelessly on creating the Australian War Memorial in Canberra. He was present when the building opened on 11 November 1941 and became Chairman of the Memorial's board in 1952. He maintained a close association with the institution for the rest of his life.

During the Second World War, Bean liaised between the Chiefs of Staff and the press for the Department of Information. He became Chairman of the Commonwealth Archives Committee and was instrumental in creating the Commonwealth Archives. Between 1947 and 1958 he was Chairman of the Promotion Appeals Board of the Australian Broadcasting Commission and continued to write – a history of Australia's independent schools and finally a book on two senior AIF figures, Two men I knew.

Bean didn't like Monash; he certainly didn't understand him, and this was partly Monash's fault. Monash was what these days would be called a self-promoter; he saw little virtue in modesty. He gave Bean 'a good talking to' in June for failing to give the 4th Brigade enough publicity. There are few surer ways of getting a journalist offside. Bean, however, carried his own prejudices. He had a romantic notion of how senior officers should be. Country lads with modest ways who came from good English-Australian families with clergymen or schoolteachers close up in the pedigree - these were fine. This Monash, the son of a Polish merchant, a city man, middle-aged and portly, an engineer who knew how to play political games - he didn't fit the Bean template.

In 1918 Bean lobbied against Monash being made commander of the Australian Corps. 'He is not the man,' Bean wrote in his diary. "Besides, we do not want Australia represented by men mainly because of their ability, natural and inborn in Jews, to push themselves." Les Carlyon "Gallipoli" ISBN 0-7329-1128-1 Page 384

Bean received a number of honorary degrees and declined a knighthood. He said he could not bear the thought of his wife going to the butcher and asking for meat for Sir Charles Bean. He had married Ethel Young in 1921 and the couple adopted a daughter. Bean, one of the most admired Australians of his generation, died after a long illness in Concord Repatriation Hospital in 1968.
| | | |
| --- | --- | --- |
| Born | 1879-11-18 | Bathurst, NSW. |
| Other | 1889 | Bean moved with his family to England. |
| Date RTA | 1904 | Bean returned to Australia and was admitted to the New South Wales Bar. |
| Other | 1908-01 | Joined the Sydney Morning Herald as a junior reporter. |
| Other | 1910 | Was posted to London. |
| Other | 1913 | Returned to Sydney as the Herald's lead writer. |
| Other | 1914-09 | Won an Australian Journalists Association ballot and became official correspondent to the AIF, narrowly defeating Keith Murdoch. Bean remained a civilian but held the honorary rank of captain. |
| Other | 1915-04-25 | Landed at Gallipoli. |
| Date of award | 1916-07-13 | Mentioned in Despatches. |
| Other | 1916-11 | Bean suggested to the Australian Minister for Defence, Senator Pearce, that photographs and relics of the fighting around Pozieres should be put on display in a national museum. |
| Other | 1919 | Returned to Gallipoli as the head of the Australian Historical Mission to collect relics for the Memorial, obtain Turkish accounts of the campaign and report on the condition of war graves. |
| Other | 1919 - 1942 | Worked on the official history of the First World War. |
| Other | 1941-11-11 | Attended the opening of the Australian War Memorial. |
| Other | 1942 | Chairman of the new Commonwealth Archives Committee. |
| Other | 1947 - 1958 | He chaired the Promotion Appeals Board of the Australian Broadcasting Commission. |
| Other | 1950 | He wrote a history of Australia's non-government schools. |
| Other | 1952 | He became chairman of the Board of Management of the War Memorial (an unpaid position) and accepted a commission to examine First World War relics to determine what should be kept and what discarded. |
| Other | 1952 | Became Chairman of the Australian War Memorial's board. |
| Died | 1968-08-30 | Concord, NSW. |
| | |
| --- | --- |
| Service Number: | (Officers did not get a number allotted) |
| Rank: | Captain (Honorary) |
| Unit: | Staff |
| Service: | Army |
| Honour / Award: | Mention in Dispatches |
| Date of London Gazette: | 13 July 1916, page 6941, position 4 |
| Date of Commonwealth of Australia Gazette: | 30 November 1916, page 3233, position 4 |
C E W Bean, Artist, Poet & Photographer
Bean was more than just a writer, he also was a keen photographer, drew pencil sketches and wrote some poetry. A small sample of his work in those fields is below.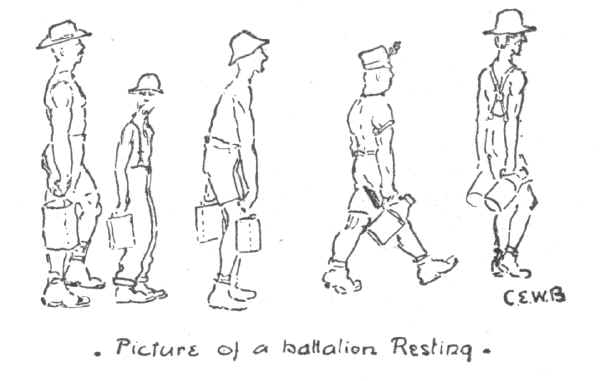 ABDUL

We've drunk the boys who rushed the hills,
The men who stormed the beach,
The sappers and the A.S.C.,
We've had a toast for each;

And the guns and stretcher-bearers
But, before the bowl is cool,
There's one chap I'd like to mention,
He's a fellow called ABDUL.

We haven't seen him much of late
Unless it be his hat,
Bobbing down behind a loophole
And we mostly blaze at that;

But we hear him wheezing there at nights,
Patrolling through the dark,
With his signals-hoots and chirrups
Like an early morning lark.

We've heard the twigs a-crackling,
As we crouched upon our knees,
And his big, black shape went smashing,
Like a rhino, through the trees.

We've seen him flung in, rank on rank,
Across the morning sky;
And we've had some pretty shooting,
And - he knows the way to die.

Yes, we've seen him dying there in front
Our own boys died there, too-
With his poor dark eyes a-rolling,
Staring at the hopeless blue;

With his poor maimed arms a-stretching
To the God we both can name
And it fairly tore our hearts out;
But it's in the beastly game.

So though your name be black as ink
For murder and rapine,
Carried out in happy concert
With your Christians from the Rhine,

We will judge you, Mr. Abdul,
By the test by which we can-
That with all your breath, in life, in death,
You've played the gentleman.

C. E. W. B.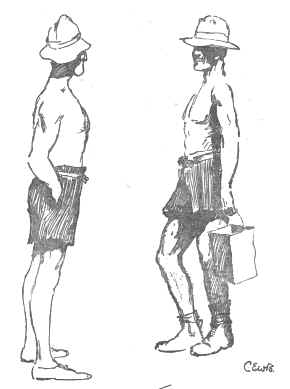 ---
---