| | | |
| --- | --- | --- |
| Category: Food | | |
Who called the cook a bastard?
Who called the bastard a cook?

Why are the Catering Corps called 'fitters and turners'?
Because they fit good food into dixies and turn it into shit.
| | |
| --- | --- |
| 7 May 1903 | HMS Dart complained to the Victualling Officer at Sydney that salt beef issued to the ship had been in brine since 1863 (40 years), and that the ship's biscuits were so hard they required boiling for an hour before use. As a survey ship Dart received compensation issues of coffee, tinned mutton and pickles. |
| | |
| --- | --- |
| | |
| Emergency ration tins were first issued to troops during the Boer War and contained either 8 ounces of bully beef or chocolate, or two rations of 4 ounces each. | Circular tin containing a Christmas pudding. The manufacturer's labels are on the top and sides of the tin with the maker's details and serving instructions. The label on top is decorated with holly wreath. This Christmas pudding was given to 106 Trooper Thomas Ashford of 2 New South Wales Mounted Rifles during his service in South Africa. |
| | |
| --- | --- |
| | Informal group of five cooks at the 5th Light Horse Brigade's B Squadron cookhouse at Gallipoli. The cookhouse consists of an uncovered wooden structure built into a mound of earth. Hanging from the roof are four animal carcasses. Identified is 390 William Vesey Dawson (later DCM), B Troop, B Squadron, 5th Light Horse, left, holding a knife and sharpening steel. AWM P02023.005 |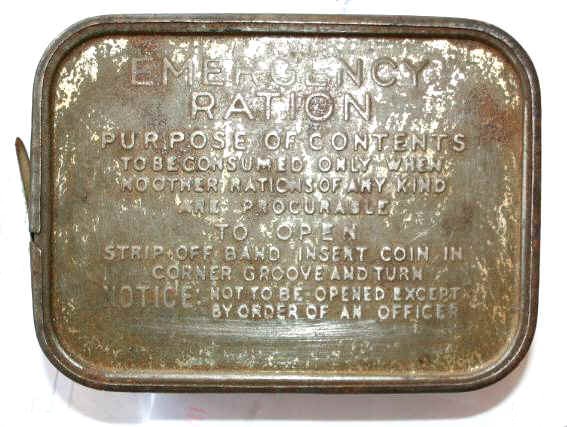 WW1 Emergency Ration. "Purpose of contents. To be consumed only when no other rations of any kind are procurable' To open strip off band and insert coin in corner groove and turn. NOTICE: Not to be opened except by order of an officer".
Lance-Corporal J.J. Palmer of Anzac wanted to share these recipes with the folks back home. They were printed in the Inglewood Advertiser, 19/10/1915:

He wrote: Just a couple of recipes which have been tried in Gallipoli with great success. Somebody might care to waste the stuff in their spare time:-

Dug-out Porridge. Ingredients - Two meal biscuits, large size (commonly known as dog biscuits); one mess tin half-full of water. Treatment - Break biscuits to powder; put mess tin with water on fire. When boiling add powder and then stir for a while; then flavor with milk and sugar, if available, otherwise jam marmalade, plentiful.

French Rissoles. Ingredients - One tin of bully-beef, any brand; little bit of biscuit powder; a couple of onions and a little bit of thyme to flavor. This grows plentifully about the hills. No need to add salt, as the bully contains too much. Treatment - Chop up onions very small and mix the lot together; have it just a bit sticky. Make into small pasties and roll in flour, if one is lucky enough to pinch some off the beach without getting pinched himself. Fry well in lid of mess tin. To get fat for same render down bacon from breakfast which was too fat to eat.
| | |
| --- | --- |
| | Mafeking, South Africa, C. 1900. Butchered horses hanging from a tree ready to be handed out as rations in the town during the siege. (Donor C. Booth) Note...all the dogs in the town were also butchered and eaten. Times were tough, but the Garrison survived and was eventually relieved. Some Australians were in the besieged town and others were in the relief party. |
Cooks of the 2nd Battalion preparing bully beef rissoles for the evening meal at Ypres. With the aid of the mincer, the eternal 'bully' was turned into a variety of dishes. Identified are: Lance Corporal D McPherson (left foreground), cutting what appears to be bacon; R Egan (checking the contents in the field cooker or mobile kitchen, behind McPherson); Private (Pte) Kerwin (right foreground) working the mincer (this man has also been identified as Pte Hamilton MM); Pte R W Boyce (extreme right background, cigarette in mouth); Pte Suppel (on the other side of the field cooker). There is a limber behind Pte Boyce. Beside McPherson there are tins of bully beef. Note the soldier, centre foreground with the minced bully beef is carrying his gas mask over his shoulder.
During WW1 the was no widespread use of ration packs as we know them today. Food was cooked and distributed very close to the front and, at times, right up at the front. Pre-packed food was issued as "emergency rations" and were carried to be used as a last resort. The photo above is of a faithful re-production of the 1914/18 British emergency ration. The photo below is of other items that were sometimes issued, including the famed M&V which was a meat and vegetable stew.
| | |
| --- | --- |
| | Serapeum (?). 1916 (?). Informal group of four cooks, probably from the 7th Australian Light Horse, standing next to a mobile field kitchen. One man is stirring a cooking pot which is on the cart. A sign on top of the cart refers to the 7th Light Horse Regiment and the 2nd Light Horse Brigade. Donor C. Straker) |
| | Gallipoli, Turkey. 1915. Informal group of five soldiers at the 5th Light Horse Brigade's Butcher Shop. The shop consists of an uncovered wooden structure built into a mound of earth. Hanging from the roof are four animal carcasses. (Donor C. Straker) |
| | The (out of doors) cook house of the 2nd Australian Stationary Hospital at El Arish, in 1917. (Donor Pte M.E. McCarthy) |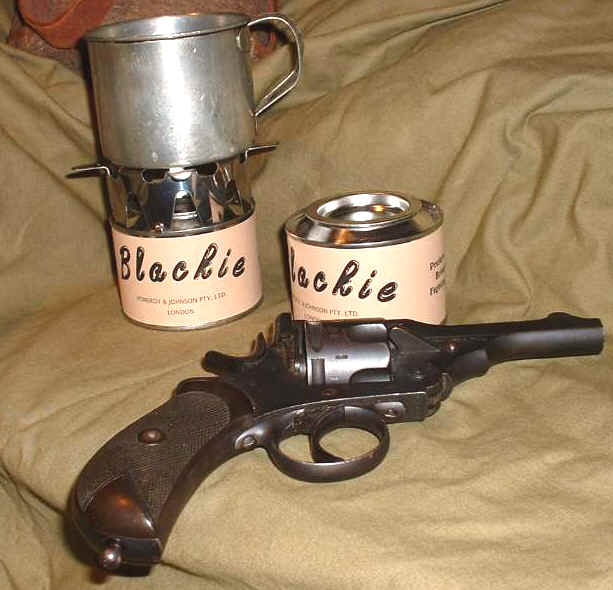 The "Tommy Cooker" was a small tin of jellied fuel with a clip on metal attachment that acted as a stove. After boiling the water or heating the food, just replacing the tight fitting lid on the tin extinguished the flame and allowed the balance of the fuel to be used at another time.
| | |
| --- | --- |
| | Cooks of the 58th Battalion with their field cooker (mobile kitchen) at Dickebusch, near Ypres, where the 5th Australian Division rested after the Third Battle of Ypres. Identified, left to right: 2334 Private (Pte) P N Bennett; 3520 Pte A Findlay; 3251 T W Stanard; 3712 Pte B Crowl (standing foreground); 4649 Pte G R Wythe; 1688 Pte F A Greaves. |
| | Rear view of a field cooker as used by the first AIF |
| | |
| --- | --- |
| | Australian soldiers cooking their dinner in the support line trenches, somewhere in France. (Taken by the British Official Photographer) |
1917 Christmas parcel sent to the troops by Australian Red Cross.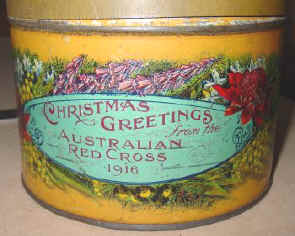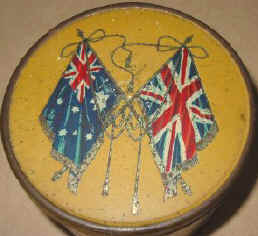 Tinned Christmas cake delivered to the troops by Red Cross, 1916
WW2 Red Cross Food Parcel for Prisoners of War
Food parcels usually contained the following: Tea, cocoa, sugar, chocolate, oatmeal, biscuits, sardines, dried fruit, condensed milk, jam, corned beef, margarine, cigarettes/tobacco, and soap.
| | |
| --- | --- |
| | 31.5cm long x 19cm wide x 13cm deep: Received by VX4688 Private R Glanville of 2/7 Infantry Battalion in 1943, while he was a prisoner of war in Silesia (then in Prussia, but now a part of Poland). He later cut the out the base of the box that that it could hold a short wave radio that he had made. |
Arnott's hard tack biscuit as issued to the Australian Army during World War Two. These biscuits were exceptionally hard and difficult to eat unless soaked in liquid or broken up with several blows of a bayonet handle. They were, however, good nutritional value. Along with 'bully beef' which was a tinned lightly corned beef mixture they formed the base of the infantryman's diet.
This is what one Digger thought of them
| | |
| --- | --- |
| | Tobruk, Libya. 1941-08. Representatives of the 2/48th infantry battalion receiving an issue of canteen stores from the army canteen services store. Even in the front line the weekly ration service was maintained. |
| | Nuseirat, Palestine. 1942-11-05 Base units of the A.I.F. (Middle East) have been instructed to grow their own vegetables. The Sergeants' Mess of No. 1 Australian Convalescent Depot planted their ration of dried peas. To everyone's surprise, they sprouted like seed peas and as seen by this picture a good crop should be harvested. |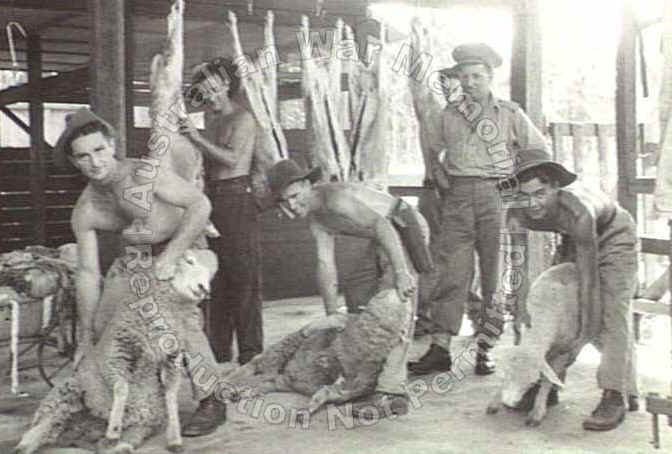 1943-05-11.
New Guinea. Milne Bay.
Army stockmen with sheep at slaughter yards at Milne Bay.
(Negative by N. Brown).
Papua, New Guinea. 1942-10. Private P. Shimmin of the 2/33rd Australian Infantry Battalion starts on his daily ration of bully beef straight out of the tin.

Bully, biscuits and water was all the men had for three days.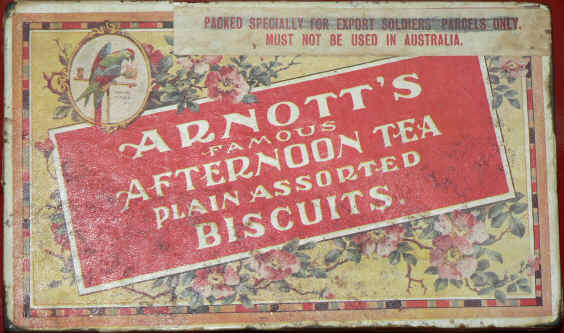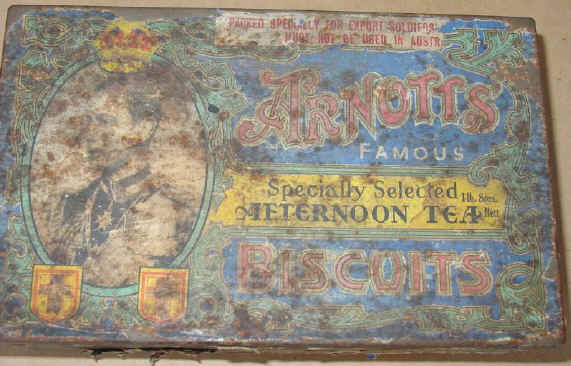 Arnotts' Specially Selected Afternoon Tea biscuits. 1lb 8 ozs. Marked "Packed specially for export soldiers. Must not be used in Australia".
| | |
| --- | --- |
| | Ramu Valley, New Guinea, 1943-10-03. Chimbu and Bena native carriers arriving at the 2/7th Australian Independent headquarters, with medical stores and rations, from Kainantu. |
| | Guy's Post, Faria River area, New Guinea. 1943-11-08. Troops of the 2/33rd Australian Infantry Battalion examining the new field operational ration. This ration contains three meals, each wrapped separately. Shown are, left to right: NX41189 Corporal C. J. Smith; NX12806 Lance Corporal W. D. Fletcher; NX51052 Private H. L. Pilkington. |
| | |
| --- | --- |
| | |
| Rations were issued as "Emergency Rations" and were designed to be eaten only in the case of nothing else being available | Life boat and life raft ration packs (US manufacture). |
Papua, New Guinea. 1942-10. Members of the 2/27th Australian infantry battalion as they reached the outpost at Itiki, after being out of touch with other troops for 13 days. They had had very little food and were in bad shape when they came in.

1942-03-09.

Australian women join the army. Cooks provide army meals in camps and barracks. AWAS cooks boiling puddings. (negative by E. Cranstone).

Yaula, New Guinea. 1944-04-09. VX108667 Sergeant J. Blomley, 57/60th Infantry Battalion, prepares scones for baking using an oven improvised from abandoned Japanese petrol drums packed with earth. It is said of Blomley that he was a thief, but was forgiven as he only ever stole ( he called it acquired) food and only for his troops, never himself. A side of bacon here, a few kilos of butter there, it all helps.
| | |
| --- | --- |
| | Dumpu, New Guinea. 1944-02-05. VX139868 Corporal R.H. Page (1) of the 24th Infantry Battalion and VX144966 Private J. Stewart (2) of the 57/60th Infantry Battalion, pictured in the bread room of the 15th Infantry Brigade bakery. |
| | Dumpu, Ramu Valley, New Guinea. 1944-02-11. VX84574 Warrant Officer 1, R.A.H. Millard (1); Regimental Sergeant Major, 57/60th Infantry Battalion sampling a fritter made by the cooks of "B" Company. With him is VX139872 Private W.D. McNicoll (2). |
| | Singapore, Straits Settlements, 1945-09-10. Cpl J. Bunning, Australian Army Service Corps, 8th Aust Division (1) and Sapper C.F. Graham, 2/10 Field Company, Royal Australian Engineers (2), 8th Australian Division, ex-prisoners of war of the Japanese preparing Ikan Tukau, a large Malayan fish, the first good fish to be included in the ex-prisoners of war's rations. |
June 1944. Ration books for food and clothing. Rationing of clothing for civilians in Australia began in June 1942 and food rationing followed.
Lutong, Borneo,

5 July 1945.

Fifteen Indian prisoners of war of the Japanese escaped into the jungle of 10 June 1945 and reached Australian forward positions at Miri on 28 June 1945. Fourteen of the men are members of 17 Field Company Royal Bombay Sappers and Miners, Indian Army Engineers and one member of 10/6 Punjab Regiment. The men were captured by the Japanese in Singapore and brought to Lutong. Shown above, Lieutenant C Cook, B Company, 2/13 Infantry Battalion issuing rations to Naik (Cpl) Surat Singh.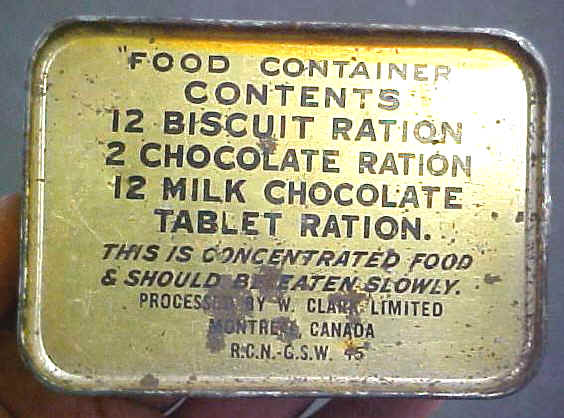 A Canadian emergency ration pack as used by some Aussie airmen.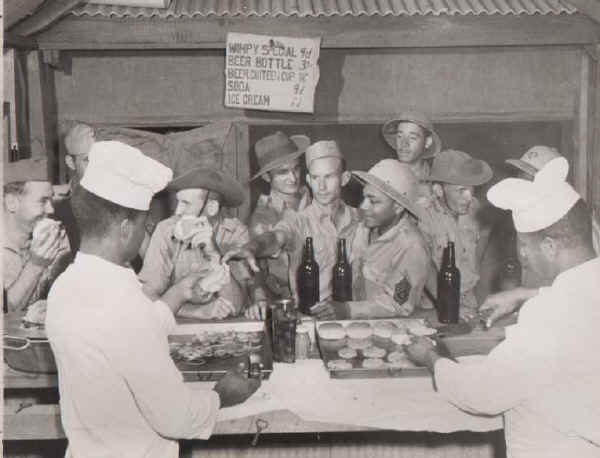 Diggers & Doughboys share a meal of the new fangled (to Australians) food called Hamburgers. Note the price list. Note that beer was available. This photo was taken in Australia during WW2.