| | | |
| --- | --- | --- |
| Category: Air support | | |
Australian Flying Corps & Royal Australian Air Force
By the standards of military aviation, the Royal Australian Air Force has an unusually long history. It is one of the world's oldest independent air forces, having been established in 1921, three years after the first, the (British) Royal Air Force.

Military aviation first took wing in Australia when Central Flying School was formed at Point Cook in 1912, only nine years after Orville and Wilbur Wright made the first successful controlled, powered flight at Kitty Hawk, North Carolina.

Central Flying School grew quickly into the Australian Flying Corps.
By 1914 Australian pilots had been dispatched on active service to New Guinea, to help seize German colonies. One year later, the Australian Flying Corps was fighting in Mesopotamia (modern day Iraq); and by the end of World War 1, four Australian squadrons were in action on the Western Front in France.

While officially the Australian Flying Corps' main role was army co-operation, its squadrons inevitably became involved in air to air combat and bombing attacks, as the full potential of the air weapon became apparent. Australian fighter pilot A.H. Cobby, for example, was credited with 29 kills, making him one of the war's leading aces.

It was partly because of the manifest potential of air power that the RAAF was established as an independent service in 1921. Nevertheless the period between the first and second world wars was a difficult one for Australia's airmen. For example, Australia's first Chief of the Air Staff, Wing Commander (later Air Marshal Sir) Richard Williams, found himself repeatedly under attack from his army and navy counterparts who persistently argued there was no place for independent air power, that air forces would always exist only to support armies and navies.

The RAAF entered World War II on 3 September 1939 and for the two years before Pearl Harbor sent thousands of young men to fight against the Axis powers in Europe, either in Australian squadrons or with the RAF. Following the Japanese attacks on 7-8 December 1941 against Pearl Harbor, Malaya and the Philippines, the RAAF's attention tended to shift to the war in the Southwest Pacific, especially as, during the first half of 1942, Japanese invasion of Australia seemed probable. It is not widely known that the Australian mainland was bombed more than 60 times by Japanese aircraft.

One of the major factors in reversing the Japanese advance through Southeast Asia was the productive alliance formed between American, Australian, New Zealand and Dutch forces. Probably the most notable action from an Australian perspective was the Battle of the Bismarck Sea, fought over 50 years ago on 2-4 March 1943. In a brilliantly conceived and executed operation, American and Australian aircraft destroyed 12 of 16 ships in a Japanese convoy attempting a major reinforcement of New Guinea. That victory removed forever any likelihood that Japan would be able to regain the initiative in New Guinea, and so again threaten Australia.

At the start of World War II, the RAAF consisted of about 3000 personnel and 300 aircraft. By 1945 it had grown 50-fold, to a force of over 180,000 personnel operating more than 3000 aircraft. By 1948, however, its personnel numbered only 8000.

A fighter wing consisting of Nos. 76,77 and 82 Squadrons, equipped with P-51 Mustang fighters, went to Japan in February 1946 as part of the British Commonwealth Occupation Force.
| | |
| --- | --- |
| | Mustang |
In September 1948 Dakota crews of 86 Transport Wing took part in the Berlin Airlift which defeated the Russian attempt to blockade Berlin. The 86 Transport Wing crews flew 6000 hours during the airlift flying into Berlin 7264 tons of supplies and carrying nearly 8000 passengers.

When North Korea invaded South Korea in 1950, it was the RAAF's Mustangs from 77 Squadron (which had been on duty with the occupation forces in Japan) which initially provided much of the close air support for the beleaguered United Nations ground forces. Later re-equipped with the British-made Gloster Meteor jet fighter, 77 Squadron continued to operate in Korea as part of the United States Fifth Air Force.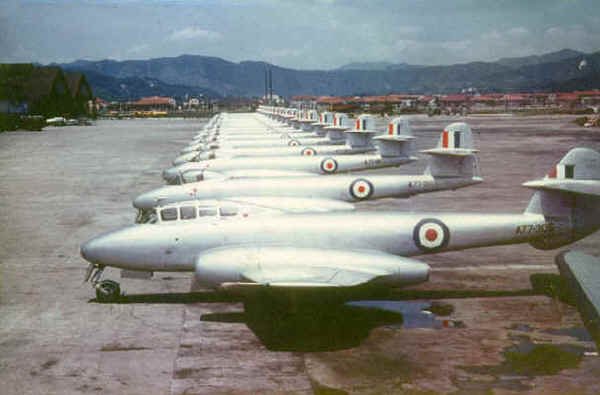 Meteors on the strip in Japan
In the same month that the fighting in Korea started, RAAF Lincoln bombers and C-47 transports had begun active service with British Commonwealth forces in Malaya, in a war against communist insurgents which was to last 12 years.

The RAAF also contributed a fighter wing to a British Commonwealth garrison in the Middle East, based in Malta, from 1952 to 1954.

No. 79 Squadron, equipped with Sabre fighters, operated from the Thai Air Force base at Ubon from 1 June 1962 until 31 July 1968 as part of the South East Asia Treaty Organisation commitment to the air defence of Thailand.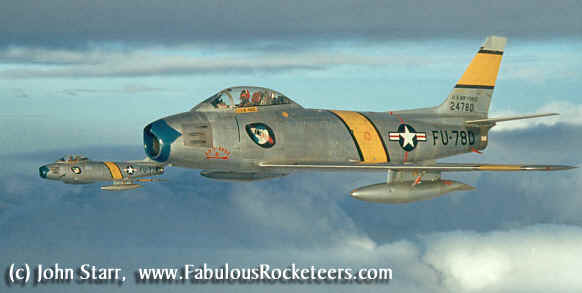 USAF Sabre jets similar to the ones flown by RAAF
Then came the Vietnam War, where the RAAF supported the U.S. effort from 1964 to 1972. RAAF Canberra bombers and Caribou transports contributed to the overall air effort, while Iroquois helicopters operated in support of an Australian Army task force. Neptune reconnaissance aircraft and C130 transports also participated in the war.

In addition to those flying units, a significant number of RAAF personnel served with USAF squadrons during the war, including F/RF-4 Phantom strike/reconnaissance pilots, Forward Air Control pilots, photographic interpreters and intelligence officers.

The RAAF was called to another front in September 1965 with the escalation of the Indonesian 'confrontation' of Malaysia. RAAF Sabres were sent from Air Base Butterworth in western Malaysia to Labuan in Borneo.

While RAAF aircraft did not participate directly in the 1991 Gulf War, support was provided by intelligence officers, linguists and a medical team. A small number of aircrew saw active service with USAF, RAF and Royal Navy squadrons.

RAAF Boeing 707 tankers also provided airborne refuelling for US and British aircraft monitoring the "no-fly" zone in southern Iraq in the early months of 1998.
| | |
| --- | --- |
| RAAF Boeing 707 tanker | |
The RAAF has been involved in numerous peacekeeping and other humanitarian operations including Somalia, Rwanda, Cambodia, Bougainville, Irian Jaya, Papua New Guinea and East Timor.